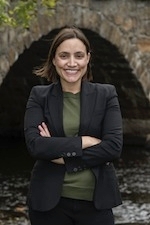 After graduating from the University of Texas at Austin, Chelle moved to the Boston area to explore career opportunities in New England. She began her real estate career in 2002 at a boutique residential firm in the city, working exclusively in Boston's beloved neighborhoods including the Back Bay, Beacon Hill and South End. In 2005, Chelle moved from residential to commercial real estate, accepting a role, a privately held commercial real estate firm. She met her husband, Adam, and left the firm shortly before they married in 2009 to return to her residential real estate roots. During this transition, a lifelong interest in photography inspired her to obtain advance training in digital photography through Boston University's Center for Digital Imaging Arts.
Shortly after they married, they bought their first home, a historic colonial in charming South Natick village. In the midst of extensive home renovations, they started a family and today have three children. Although her family relocated from South Natick to Sherborn in the summer of 2015, you will still find Chelle in Natick daily – she is an active member of the Natick Community Organic Farm, her children attend the Wellesley Cooperative Nursery School just across the Charles River from the Landmark office and her in-laws relocated there in 2013.
Chelle is excited to bring her real estate experience and photography talents to Landmark team.